Google Ads For Painting Contractors
Google ads have the highest intent searches compared to other platforms such as Facebook ads, Instagram ads, and Pinterest ads among others. According to Stat Counter, Google commands over 90% of the world's search engine market share and handles over 3 billion searches every day. This simply implies that no matter who your target audience is, there are high chances of finding them on Google.
When people are looking to hire a concrete contractor, for instance, they will begin their search on Google. Google ads will give you the top spot on the search results, above the organic search and Google maps.
Accordingly, you have a better chance of driving more leads—faster. What's more, Google's platform is more transparent as you can always see what's happening with your ads any time you deem fit.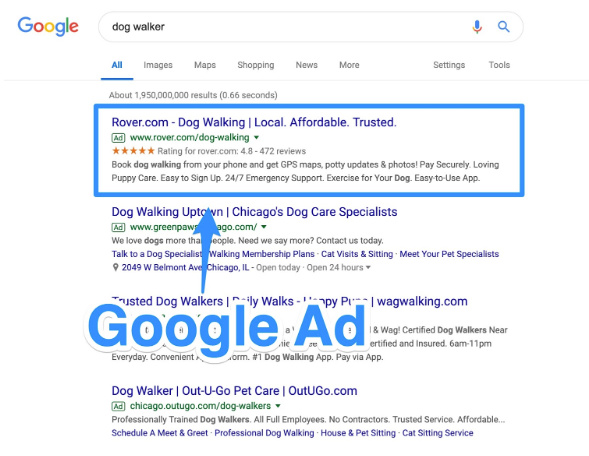 You can also turn the ads on and off whenever you want. It is, therefore, the perfect lead source for painting companies. However, to get the most out of Google Ads, you have to optimize every campaign after launching it. Immediately your ads are live, you have to optimize them or else you will fail to gene rate leads.
Oftentimes, painting contractors try to run Adwords campaigns themselves but end up wasting a lot of money because they are not doing a lot of things right. For instance, there are a lot of irrelevant searches that contain keywords like "paint," "painting cars," "painting manufacturers," and "face painting" among others. Although the terms are related to painting, they are irrelevant for a painting contractor and will eat up your budget if you don't exclude them. In other words, there is a huge amount of searches that are just not related to painting services, and can waste your budget if you don't take care of them. Such search terms will also get you tons of unqualified leads. And this is where we can help.
I can help you get your ads at the top of the Google search results when people are looking for a painter. And when they click the ads, they are directed to your website, where they can call or fill out the contact form on your website. Basically, this is how I get you qualified leads from Google Ads.
In particular, I optimize your ad relevancy as well as your landing page content to boost your click-through and conversion rates. This means that your add will only show when a person is looking for a painter, allowing you to drive more qualified leads to your site. I also manage the bids on your behalf to make your cost per lead more profitable.
With several years of experience in setting up and optimizing Google Ad campaigns in the painting industry, I know all the keywords (plus all the negative keywords), how and what to bid, what ad copy converts, and how to get a good cost per lead. Above all, I know the painting business.
I will work with you to learn different aspects of your business to better manage your Adwords account, including:
– Your lead generation funnel- Visit-to-lead ratio- Profit margins per lead
I will then use my understanding of the mentioned metrics to tweak the bids to get you the optimal cost per acquisition. My aspiration to make your painting business my own coupled with several years of PPC management experience translates to a cost-effective form of advertising with great reach and potential.
Bottom-line
When used properly, Google Ads can send lots of leads who are interested in your services. So, if you are not currently using Google Ads or you are not using it to its full potential, you need to reconsider your stance.
Generally, Google Adwords is a self-service platform and some people will tell you that you don't need a PPC company to help you set up or manage your campaigns. However, as hinted above, if you don't have the expertise, you are likely to waste your budget and end up with irrelevant leads. The best thing to do is to partner with a Google Ads manager who can get you get the leads that your business needs.
So, if you want to get more painting jobs or tenders with Google AdWords and you'd like to partner with AdWords manager who knows ins and outs of the painting business, fill the form below and I'll contact you soon.
Thanks,
Marko Ramovic