My name is Marko Ramovic, and if you need anything related to Google Ads – you've come to the right place. 
I'm a Google Ads specialist with more than seven years (and counting) of proven experience under my belt. Many business owners like you have entrusted me with millions of dollars which I've invested in successful ads, seen by millions of customers. And I can tell you this – your marketing goals are my passion.
Where do I come from, how did I become a freelance Google Ads specialist, and most importantly, why did I devote myself to this career? Let's rewind a couple of decades.
My Home
I was born and raised in Belgrade, the capital of Serbia. 
Things get quite turbulent over here, more often than we'd like. But that's why we learn to always expect the unexpected early on in life, and we're masterful at improvising just about everything. This came in handy so many times in my career.
Nonetheless, I'm proud to call Serbia my home. It's a land of breathtaking landscapes, exciting history, famous inventors (Nikola Tesla surely rings a bell), and delicious cuisine. 
Speaking of delicious cuisine and expecting the unexpected – I always wanted to be a paleontologist. While a lot of kids lose interest in dinosaurs somewhere around adolescence, I never did. I've been interested in paleontology my whole life.
But life took an unexpected turn, and right after high school, I worked to become a chef. Digging up dinosaurs has been stuck on my "to-do" list ever since.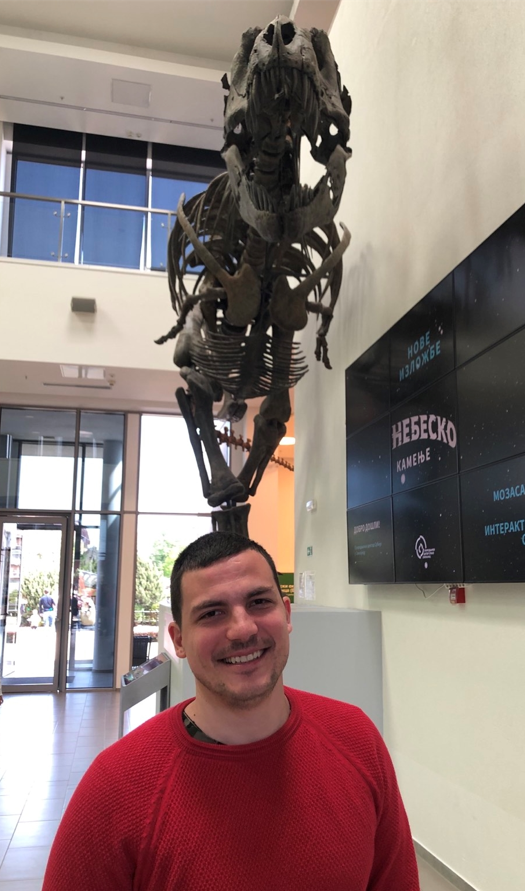 Years Of Heavy-Duty Labor
Long hours, nights, weekends. Relentless dishwashing, cutting, frying, grilling, boiling. Playing with fire. And knives, too. Funny smells that wouldn't go away hours after I've finished my shift. Cuts and burns.
I still remember the adrenaline rush each Friday night, having to prepare 20 perfect meals in less than 10 minutes. 
In short – a life of toil and seclusion. But I enjoyed it for a while. I became tougher and came to appreciate hard work and hard-earned money. Cooking is something I still very much love doing.
Anyway, as things were starting to look grim, I started to look for a way forward. 
Chasing The American Dream
I've found it in the United States. In 2013 I packed my bags and went to Sarasota, Florida. It felt like home from day one. Fantastic weather, amazing white sand beaches – I loved it!
A cousin of mine owned a pressure washing business so I quickly got myself a job. 
Bleach in my hair and hard, tiresome work became my routine. But the pay was great. 
However, we were struggling. We had just about enough customers to keep us busy, but not nearly enough to make the business grow. My cousin wanted to expand his pressure washing business and attract more customers. 
He wasn't getting far with door-to-door sales and handing out flyers. And this was the turning point of both his business and my career.
Discovering Google Adwords
I took initiative, did some research, and realized that there's this thing called Google My Business. It was free to set up, so we decided to give it a shot.
Not long after we've set our first Google My Business profile, we got our first client from the internet! We booked that client and we did a great job. 
That's the moment I came to realize that the internet can be a powerful money-making tool. And that's also the moment when I decided to go all-in and devote myself to digital marketing.
I did pressure washing over the day, and I spent countless nights learning the ins and outs of building a successful website and promoting it on the internet. 
It was a steep, strenuous learning curve.
Very soon, Google offered a $300 free credit so I decided to run my very first Google Adwords Campaign. 
I was mind blown! We quickly landed a job at a storage facility nearby and brought in $2500 for a one-time clean.
From that moment on, the phone never stopped ringing, and the business exploded. Our monthly income doubled from $20,000 to $40,000 within a year.
My cousin had to hire new staff and buy a new fleet of trucks in order to keep up with the ever-growing demand, and I became his full-time digital marketing manager. 
Your Goals, My Passion 
I enabled my cousin to transform his business. That feeling was fantastic, it was my ultimate prize. I've found the big "why" in my career, my life calling. It's what drives me even today, and it'll always make me go the extra mile.
Google Adwords and digital marketing have become my passion ever since. 
Fast forward to 2021, seven years, 9 countries, and hundreds of clients later: my cousin is still running a successful company, and I'm fully devoted to helping entrepreneurs transform their businesses.
And by the way, I still obsess about dinosaurs. 
Message me if you want to grow your business, and I'll do the rest!