Are you wondering how to get the most of your marketing spend but seem overwhelmed and do not know where to start? Let's talk about how Google Ads can help achieve your business objectives.
According to a report, 75% of internet users said that they find it so easy to search for the information they need with paid ads. Simply put, to gain the attention of your audience — your business needs to be visible and easy to search for through ads online.
Google Ads showcases your brand to your ideal audience the minute they go online to search for the products and services that you offer.
How to Grow Your Business with Google Ads
Online advertising with Google Ads lets you target your ideal customers and filter out those who are not. Google Ads allow you to use different targeting methods that can help you reach potential customers right when they're looking for your products or services. 
Google Ads was designed to help businesses achieve their marketing goals
Advertising with Google Ads enables you to exploit different formats and features to modify your ads so they can adapt to your different business goals. For example, using video ads to present your brand to your audience. Or, adding a clickable "Call" button on your ads for a higher chance of getting more calls.
Business goals to consider:
Install your app

Take action on your website

Call your business

Visit your store
Use keywords to target your ads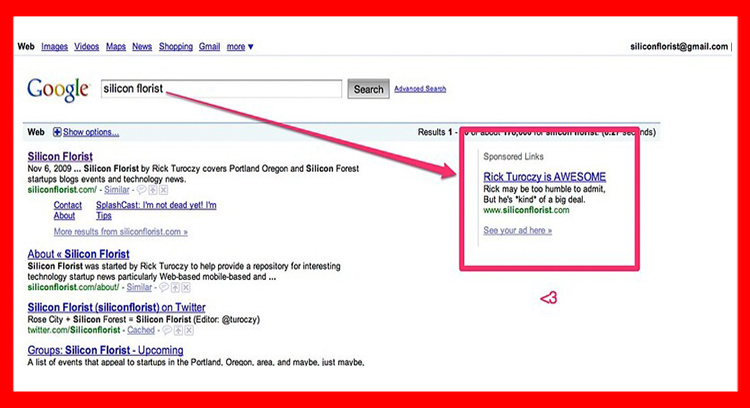 When you advertise together with Google Search Network's search results, you can pick the keywords that can help you target ads to users searching for related terms.  Additionally, you can choose to show your ads on specific:
Times of day

Languages

Locations, etc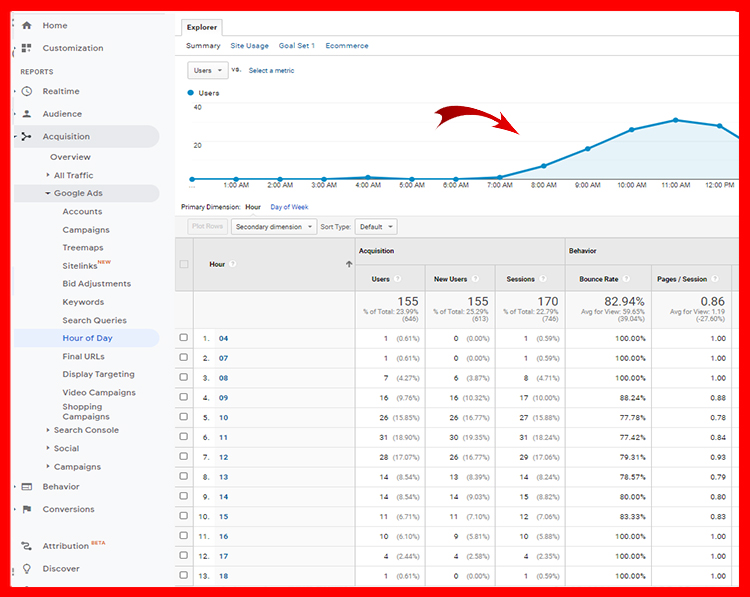 Optimizing your ads display by knowing the best time of the day to run ads
Get more specific regarding your target audience
When you advertise on mobile apps and websites that show Google Ads and YouTube, you can get even more specific about the people you want to reach. You can target your audiences in terms of age, their areas of interest, and the types of sites they visit.
Only pay for results
How much you'd want to spend with your ads will be up to you. Besides, you'll only pay when a user interacts with your ad. For instance, when someone watches your videos ads, or someone has clicked your text ads.
Online advertising with Google Ads allows you to base your bids on whatever you think will be good for your business.
Measure your ad's performance
With Google Ads, you can quickly track if your ad has been effective or not. And customizing your ads to improve results is a breeze.
Below you will see a sample of how an Ads expert can monitor your "money" keywords and adjust your ads accordingly for best ad campaign results.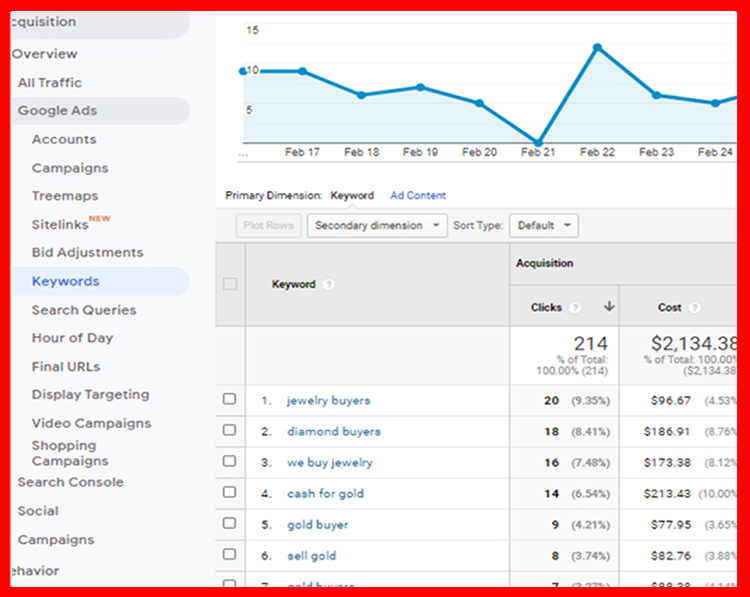 keyword optimization of Google ads
Advertise on all platforms
Google ads enables you to connect with your customers regardless of their location — on their computers, mobile phones, tablets, even in apps.
Google Ads, also known as Search Engine Marketing (SEM) and Pay-Per-Click (PPC), is a form of digital marketing strategy. Formerly known as Google Adwords, Google Ads lets users create and deploy ads in YouTube, search engine results page, and relevant platforms.
The Google Ads or PPC system is an effective and competitive tool when it comes to:
increasing website traffic
increasing leads
driving purchases and
building brand awareness
reaching out to your target audience and
in-store visits
With different targeting methods, Google Ads enables you to reach potential customers as they search for the products and services you offer. Moreover, this advertising system requires no minimum ad spend. Plus, it also gives you full control of the amount of money set for the ads.  
How can Google Ads help you advance your business goals
With Google Ads, you'll be able to advance your business goals by influencing consideration of your products & services, building awareness of your brand, and driving online, in-person, in-app, and over-the-phone sales.
Your leads and potential customers can find you on top of Google search by strategically using the right keywords relevant to your business.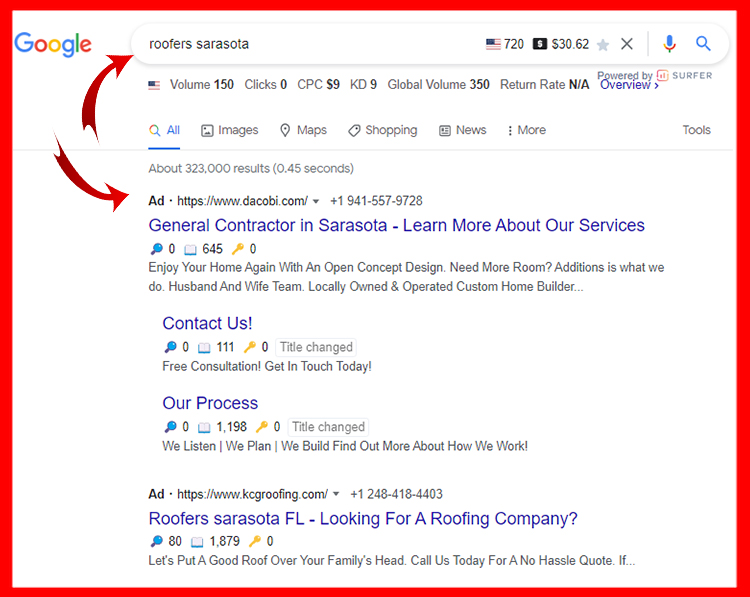 Google ads display on top of search results for more visibility to buying customers
1. Advertising campaigns
Position your advertising campaigns at the center of your business objectives. Showing relevant ads to potential customers at the right time can be done by using different types of Google Ads campaigns.
Your ads will have a higher chance of appearing together with organic search results when a user types a relevant keyword in the search bar.
Your video ads will appear on partner apps, sites, and game levels on Google Display Network and YouTube.
2. Driving online sales and getting new customers
If you want your ads to become more effective, you need to do some customizations such as specifying your goals. For instance, increasing website visits, receiving more phone calls, and driving more people to your store.
Again, the best time to reach the right customers is when they are searching for the products and services your business offers. When someone clicks on your ad, you pay Google Ads between 1 and 100 USD.
3. Building brand awareness
Targeted display ads can help in building awareness of your brand. Google Ads is an excellent tool at driving website traffic.
That said, it is essential that you get a Google Ads Search Certification. Make sure to provide a correct answer to each of the questions in the Display Ads certification assessment.
While Google Ads is an advertising platform that allows you to reach the right customers that matter to you, there are 3 essential factors that you have to consider before starting your ad campaign.
What are the benefits of Google Ads for your business?
It gives you the reach you need
Google Ads provide your target audience with results relevant to what they're searching for. It's a matter of giving the right information at the right place and time.
Easy Measurement and Designed for Your Business
Google's PPC system allows businesses to track their marketing efforts such as user behavior, conversion rates, website traffic as well as the types of website or app visitors.
With Google Ads Analytics, your Google Ads specialist can strategize your ads by choosing the keywords that has brought the most results, the time of the day best to display, among other factors.
Google's advertising platform will sort out your different campaigns to avoid conflicting budgets. Also, it will recommend areas that need improvement to increase efficiency.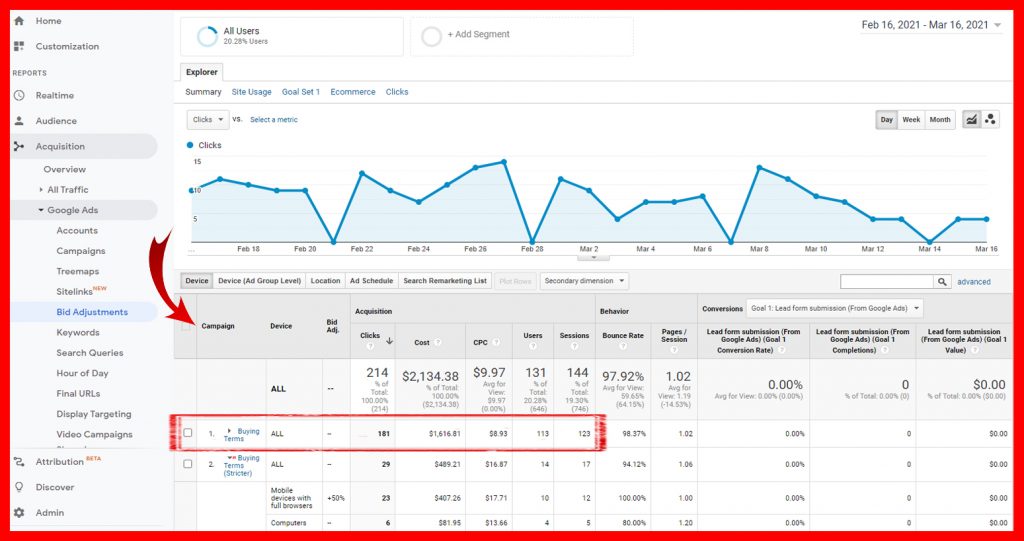 Google Ads monitoring showing the best performing ad campaign with lowest cost-per-click (CPC)
An Important Note: Click Frauds
Equally as important, run an ads campaign with a PPC expert. Aside from ads monitoring, a Google Ads specialist knows how to protect your ads budget from going to waste by preventing click fraud. How?
Do you know that, without a Google Ads expert, your competitors' dirty tactics can suddenly wipe out your advertising budget without you getting a single lead or sale? Imagine setting a budget of probably $100 per day only to lose it to fraudulent clicks from your competitors!
Thanks to advanced technology used by Ads experts, this click fraud can be prevented, resulting in tangible results and qualified leads.
We Can Help You Grow Your Business with Google Ads
For a truly successful ads campaign, your need a Google Ads expert – to monitor the best keywords, the best times of the day to run ads, to prevent click frauds and more. Over-all, this results in good leads in such a short period. And I am here to help you reach your business targets with ads.
All things considered, the effectiveness of your Google Ad campaign is subjective to your goals and objectives, which can be influenced by different factors.
Not sure which campaign type will work well for your business model? I can help you reach your business goals without overspending on ads. Simply reach out so we can discuss how Google Ads can help your business grow.